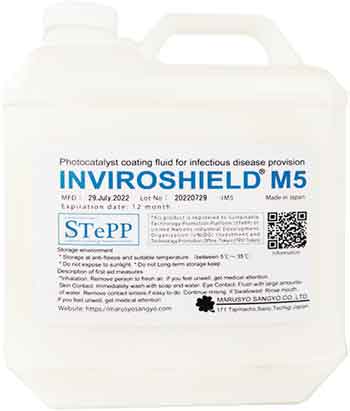 Inviroshield M5 is a visible light responsive type photocatalytic coating fluid. This is the best control system for preventing infectious diseases.
In 2003, we provided Inviroshield M5 to Taiwan and Hong Kong to help protect against of the SARS pandemic. M5 was used in various public buildings, facilities and ambulances.
Inviroshield M5 was developed in 2005 as a visible light responsive type coating fluid that can exert the effect under the fluorescent light indoors. Inviroshield M5 is made in Japan.
Now, we have been supplying Inviroshield M5 to mainly Asia such as Japan, China, Hong Kong, India, Singapore and Malaysia.
Inviroshield M5 has a potential to prevent from any bacteria and virus that are resistance to normal alcohol type disinfectant since M5 has high decomposition power by photocatalyst mechanism.
Why YOu should choose INVIROSHIELD M5?
・Anywhere , Anytime, we can protect you from infectious diseases! – Inviroshield M5 can be used various area (ceiling, walls, fixture and furniture and other equipment etc). And you can expect to decrease the risk of having infectious diseases for a long -term.
・Save your cost and time!-Once you apply Inviroshield M5, antiviral and antivirus effect last for a long-term without maintenance. Therefore, you can reduce the cost and time for daily disinfection work.
・Safety and Eco-friendly! – After the treatment of Inviroshield M5, you can reduce to use chemical disinfectants that have harmful effect on human and environment.
Too much using of chemical disinfectants are concerned to make resistant bacteria and this is the serious problem all over the world.
Inviroshield M5 doesn't make resistant bacteria because of the high decomposing power.
・Keep high hygiene environment ! – Inviroshield M5 can remove various microorganism and it is useful to reduce the risk of secondary infection and additional cost for hospital infections etc.
The surplus that are given by cost reduction will be helpful to improve medical infrastructure.
OUR MOTTO – SAVE YOUR LIFE
Protect people from various infectious diseases. Keep providing hygiene environment to all over the world.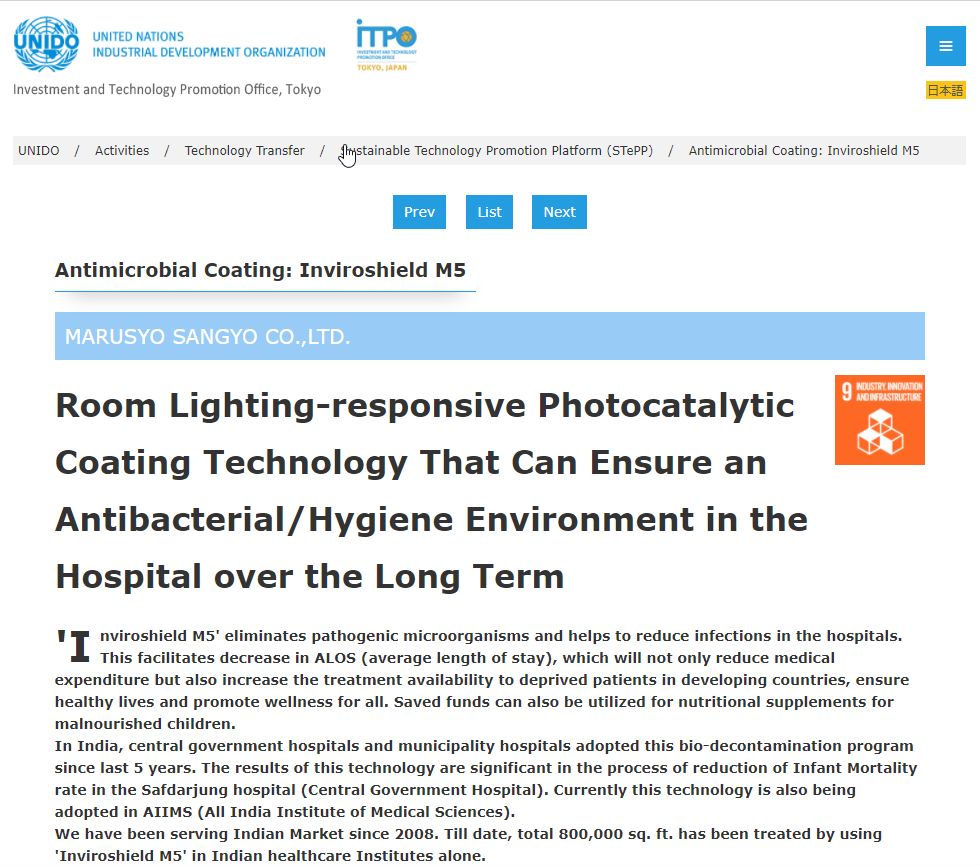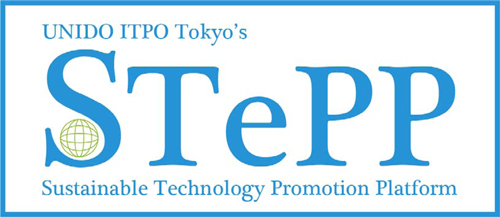 INVIROSHIELD M5 is registered with the United Nations Industrial development Organization (UNIDO) ITPO Tokyo's Sustainable Technology Promotion Platform (STePP).
Inviroshield M5 is registered as a photocatalyst coating fluid that is reacted under the fluorescent light , and this product is promoted to use in developing countries to create hygiene environment.
Great cost effectiveness for hospitals, medical institutions and other facilities which wants to have the measures against infectious diseases.
Generally, when you do disinfectant work you have to do the work according with the manual, at least one time every single day. Depends on the area and situation, you may have to do the work many times. You also take huge amount of time to keep clean all surfaces in the facilities.
Inviroshield M5 is the best solution for save your time and cost.
After applying Inviroshield M5, you can have same effect as normal disinfectant work. Just only one time coating application, the anti bacteria and anti virus effect will last for a long-term and always be able to keep high hygiene environment. You don't need to repeated cleaning work under the particular strict rules.
action for antimicrobial Resistance
All over the world, antimicrobial resistance ※1 problem are warning. Various countries reported that there are many cases the patients get secondary damage by the resistant bacteria. Normally the antimicrobial resistance bring by inadequate cleaning and disinfecting.
These are number of death by antimicrobial resistance in 2019.
JAPAN 8000※2 , USA 35,000※3 , In the world 700,000 ※4 at least.
In USA, there are very strict rules about usage of chemical disinfectants and they also be able to prosecute for the deviation of rules according to FIFRA.
This Invirshield M5 is totally different from normal chemical disinfectants. As a main characteristic of Inviroshield M5, it has the high decomposition power. Therefore, Inviroshield M5 can decompose protein that organize bacteria. It shows the death of bacteria cells so that Inviroshield M5 never help to produce antimicrobial resistant bacteria.
Even if the area that have the resistant bacteria, they will be cleaned by photocatalyst effect.
Inviroshield M5 eliminates pathogenic microorganism and helps prevent from infectious diseases.
As the result, it is possible to reduce medical cost at the hospital, the surplus can be used for the other patients who are struggle of taking enough care in the developing countries or provide nutrition supplement for child malnutrition. We can provide more healthy life to all people in the world throughout Invrioshield M5.
In India, Central Government Hospital and Municipally Hospital started to conduct the biological decontamination program by Inviroshield M5.
As the result of this technology, we confirmed that Inviroshield M5 play an important role in the process of reducing infant mortality at the Safdarjung hospital (Central Government Hospital).
This technology is also accepted by AIMS ( Asian Institute of Medical Sciences in India)
If you would like to obtain same effect as Inviroshield M5, you need to use chemical disinfectant a few dozen times in a day.
Because, Inviroshield always keep antibacterial effect for 24hours and the effect last for a long -term by the only one time coating application.
Therefore, Inviroshield M5 can reduce the cost for chemical disinfectant (quaternary ammonium cation, H2O2, phenolic compound) and labor cost.
In conclusion, 20% cost reduction for daily disinfectant work is expected.
By only one time coating application, you can obtain antibacterial effect for a year at least without any other maintenance. You also be able to return the surplus to hospital equipment, medical workers and patients.
Following website's products are MARUSYOSANGYO development and manufacturing products